Postage meters for small business allow businesses to stamp and send out mail without having to constantly make trips to the post office.
How they help small businesses
Mail machines are quite popular with small businesses because: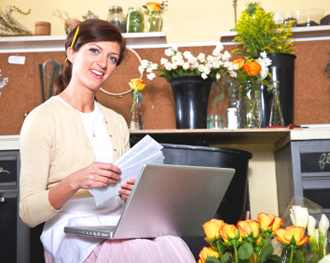 They can stamp mail at their convenience without having to make trips to the post office.
Postage meters for small businesses help cut mail costs.
They can track exactly how much each person or department in their companies is spending on stamp materials.
They can gain the convenience of downloading new postal rates within minutes of any changes in rates and postal regulations.
Basic functions
Meters are the critical parts of businesses' mailing systems because of the fact that they print the indicia, which takes the place of a stamp and stores the postal information. Meters can only be leased by businesses; they cannot be purchased. Online postage stamps are another option that allows a small business many of the advantages of a mailing system, without the machinery.
All mailing machines share essentially the same basic functions and can hold up to $1,000 in stamp supply. They can be used for First Class, Priority, and Express Mail, as well as for shipping packages. If a business applies for a permit with the United States Postal Service (USPS), a stamp machine can also be used for discounted bulk mailings as well.
Advanced features
There are postage meters for small business that have more advanced features, such as the following:
Password-protected access
Automatic stamp reset
Automatic date advance
Saved presets for common mailing jobs
Accounting codes
Questions to ask
Choosing the right mailing system product for your business is not that easy. You should carefully consider the following questions before you select a machine:
How much are your mailing expenses each month?
How many pieces of mail are sent out on an average day?
How many pieces are sent out on a busy day?
What types are most often sent out by my business – mostly standard letters or a variety of packages with different weights?
Businesses gain the freedom and ability to print out business stamps whenever they need it without making trips to the post office, saving both on time and transportation costs. Additionally, with an included scale, businesses can nail down the exact price of stamp they need. Plus, businesses can become more productive by knowing exactly which departments spend the most on mail costs.
Prices on small business postage meters
Pricing details: I was able to get a business machine for $20/month with a 36 month lease.
– Buyer from Health Care Industry, Albuquerque, NM
Pricing details: We received pricing on various Pitney Bowes machines and we ended up getting the DM200 for $35.99/month which included reset fees, free shipping and equipment maintenance.
– Buyer from Health Care Industry, Monroe, WA
Pricing details: Our company was looking for pricing on postage meters for small businesses. We found a company that was offering a special price of $14.95/month for the meter and a one time $30 start up fee.
– Buyer from Non-Profit, Hansen, ID
Pricing details: My company was looking for information on mail machines for small businesses. We were able to attain a 39 month lease for $158/month.
– Buyer from Manufacturing, Belleville, IL
Pricing details: We are a small non-profit business that was looking for different options on mailing systems. We went with a company that charges us $27.95/month.
– Buyer from Non-Profit, Caldwell, ID
Pricing details: We were looking for pricing on different mailing systems for our business. The best offer that we received was for $39.99/month with included a 5lb postal scale. 1 year contract with a 60 day free trial period.
– Buyer from Retail, Rosenberg, TX
Pricing details: My company had some Pitney Bowes meters and after getting information from different companies, we decided to renew our contract them. They offered us a great price and wanted to continue our relationship with them.
– Buyer from Equipment Sales & Service, Waukesha, WI
What other people are looking for
We are a small company with 6 employees. All we need is something that we can use to weigh mail, and provide stamps.
– Financial Services, Maumee, OH
Looking for postage meter lease agreements and services for a small government business.
– Government Agency, Laguna, NM
Looking for a simple postal machine to save money and time. This is for a small business/gas station with a convenience store.
– Retail, Owings Mills, MD
Looking for a meter comparable to the Pitney Bowes Small Business Series Machine.
– Legal Company, Leominster, MA
We need a meter for a small office – non-profit organization.
– Non-Profit, Dallas, TX
We need a small machine for mortuary business use. We occasionaly send mass mailers of up to 500 pieces.
– Mortuary Services, Whittier, CA
We are a small company, and do bulk mailings 2-3 times a year on 6″x9″ postcards (2,500 or so at a time) and are hoping to get a Pitney Bowes meter to facilitate these particular events.
– Legal Company, Campbell, CA
Flexible, I just want a machine to buy, we are tired of leasing. We are a small law firm with a few thick mailings of transcripts and letters.
– Legal Company, Garden City, NY
I desire a meter that automatically feeds, can upload postage by phone and can handle postage demands for a small business. I am looking to reduce leasing cost from approximately $160/quarter.
– Construction/General Contracting Company, San Antonio, TX
We are a small printing and copy center. We are growing into a mailing service and we are looking for pricing information on stamp machines for a small business.
– Business Services, Loganville, GA
We are interested in talking to companies that provide small business postage meters. We are looking to minimize our mail expenses while making our shipping more efficient.
– Wholesale, Camarillo, CA
Looking for stamp machines for a small business. We have a small office and will be moving to a new space very soon.
– Non-Profit, Needham Heights, MA
We currently have two mailing systems. We are using the WJ150 & WJ185. Need pricing on a larger machine with integrated scale.
– Financial Services, Troy, NY
We are a school and we send a large amount of letters to the parents of our students. We are looking for pricing of different mailing systems that will help make this easier for us.
– Education, Bethel, OH
We are looking pricing on mailing systems instead of leasing or renting a machine.
– Manufacturing, Bronx, NY
I would like to talk to a sales person about purchasing a business postage machine.
– Non-Profit, Dallas, TX
Our small business needs a franking machine with a 5 lb scale. Whatever offers you have would be appreciated for us to consider. Thank you.
– Legal Company, Wilmington, NC
Get postage meter price quotes > >