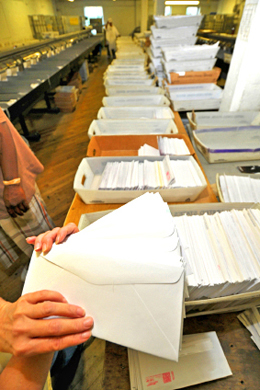 Endicia postage machines are a popular option with small businesses, and they even offer an online stamp service. The service allows businesses to purchase and print online stamps without leaving the office. The company is based in Palo Alto, California that provides Internet-based mailing and shipping services for any mail class service provided by the U.S. Postal Service. This includes shipping to Army Post Offices (APOs), Military Post Offices (MPOs), Post Office Boxes, and more.
Popular products
Endicia allows you to print postage-paid labels for any single-piece mail class offered by the USPS, but prepaid shipping labels allow for address verification to ensure that your packages get to their proper destinations.
The Stealth Indicia offering hides your shipping costs from customers so that you don't receive any negative feedback from them regarding your shipping and handling profit margins. You can even customize your shipping labels and envelopes with your logo and messages in order to promote your business and present a quality, professional appearance to your customers.
Endicia Dazzle is a software program that enables all small businesses and home offices the ability to receive the benefits of a targeted direct mail campaign that only professional mailers and large corporations received in the past. This is accomplished via the software's wizard interface that allows the user to take advantage of bulk rate (discount) mailings.
The built-in design utility enables the user to customize the mail pieces and do Zip+4 lookup and address verification. The software also allows for sorting of First Class and Standard Mail automation letter mailings. There is also an option for automating discounts of non-profit and carrier routes.
The small business advantage
There are many advantages to using Endicia for your business' postage needs:
Make fewer trips to the post office.
No required purchase of hardware, scales, or printers.
Installing is easy.
Save time via printing stamps and labels through USPS.
Save money via discounted Delivery and Signature Confirmations.
Save money via lower costs for international shipments.
Save money via lower costs on Parcel insurance.
Ensure that your package has the right amount of postage so your business isn't overpaying or underpaying.
Businesses gain the ability to print online postage stamps from their offices, saving on both time and money. Businesses also have the ability to deliver any type of package that the USPS delivers. Businesses can save time and money by using Endicia because its users receive discounts on Delivery and Signature Confirmation, International shipments, and Parcel Insurance as well.

Prices on Endicia mailing systems
Pricing details: My company was able to get a lease on a meter for $14.99/month which included the fees for online stamps.
– Buyer from Legal, Madison, WI
Pricing details: We purchased a meter that we could connect directly to the post office which helped us receive a discount on online stamps.
– Buyer from Construction/General Contracting, Oak Forest, IL
Pricing details: We received $60 in free online postage and are paying $18.95/month for a 1 year contract.
– Buyer from Health Care Industry, Spring Hill, FL
Pricing details: Selected to go with a company that offered us a meter for $14.99/month and also $30 of online stamps.
– Buyer from Real Estate Industry, Dallas, TX
What other people are looking for
Right now we have a Dymo twin turbo and postage rolls from Endicia. We would like to stay with that brand if possible.
– Financial Services, El Paso, TX
I am looking for an online stamp solution for my business. I would like to be able to update the postage using my computer.
– Retail, Asheville, NC
We will need the machine to allow to get stamps online. Would like more info about getting online postage.
– Manufacturing, Bedford Heights, OH
We would like to be able to have online postal materials for our machine.
– Health Care, Beaufort, SC
We would like to be able to use the Internet for stamps instead of having to write and send a check.
– Consulting, San Diego, CA
We currently have an Endicia Dazzle machine and we are looking to purchase online postage stamps.
– Health Care, Richland, WA
We are going to need to be able to purchase online stamps for our machine.
– Financial Services, Tonawanda, NY
Get postage meter price quotes > >